Satellites, AI and science make for the most accurate and independent measurements, and the broadest coverage of the energy transition while creating high value for companies, investors and regulators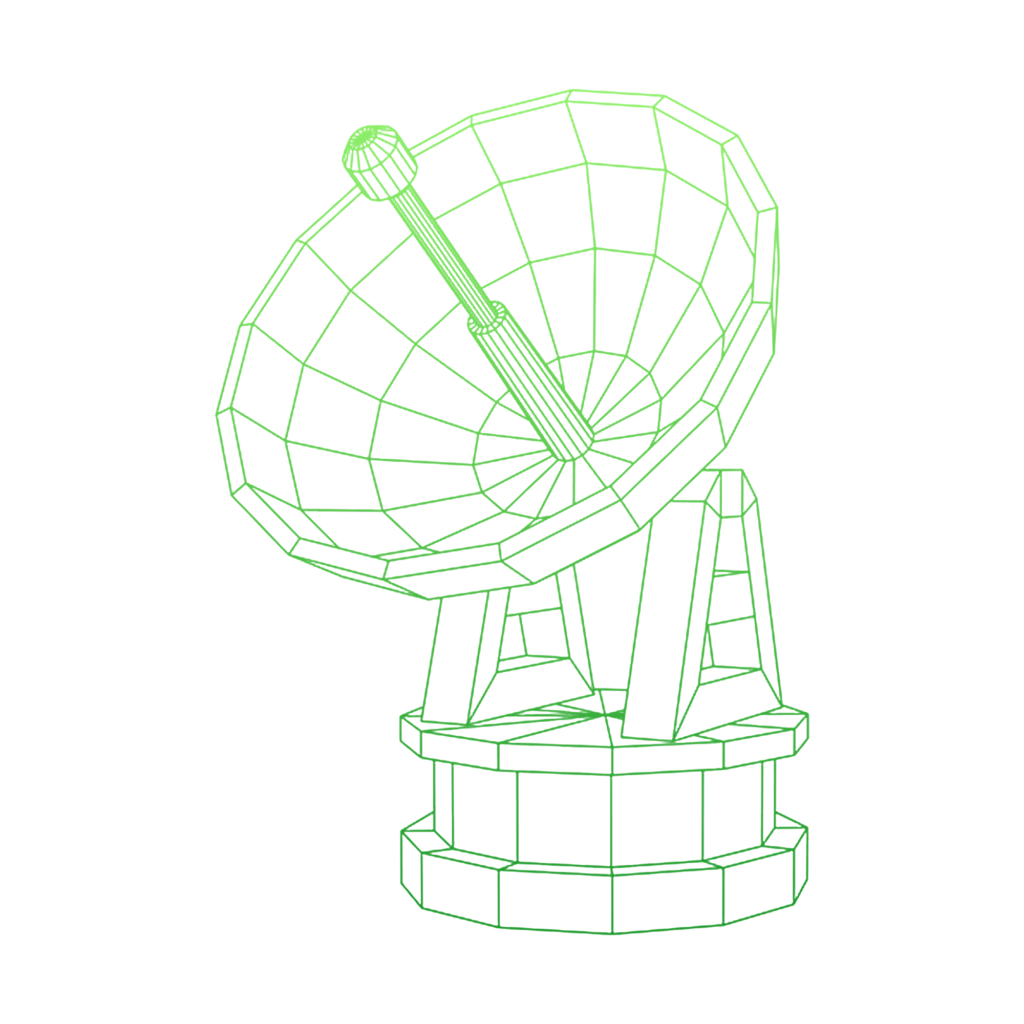 ACCURACY, COVERAGE AND VALUE
The use of satellite-based data is moving rapidly from military and agriculture to a broad set of commercial applications.
Companies, investors and regulators need user-friendly, accurate and affordable measurements at global scale.
Every day, Kayrros uses artificial intelligence to process millions of satellite images and extract from them precise, actionable data at the lowest possible cost.
Science is at the very heart of everything Kayrros does 
Thanks to its strong scientific foundation, Kayrros creates proprietary algorithms that deliver data with unparalleled accuracy. 
Kayrros scientists have authored numerous articles in top-tier, peer-reviewed academic journals. These include:
Global Assessment of Oil and Gas Methane Ultra-Emitters. Science. 
Global patterns of daily CO² emissions reductions in the first year of COVID-19. Nature Geoscience. 
Comparing national greenhouse gas budgets reported in UNFCCC inventories against atmospheric inversions. 
Digital twinning of all forest and non-forest trees at national level via deep learning.
Proceedings of the National Academy of Sciences. 
Global Tracking and Quantification of Oil and Gas Methane Leaks from Recurrent Sentinel-2 Imagery.
Environmental Science & Technology 
EU carbon emissions from regulated sectors:
Kayrros daily measurements vs. lagged official annual estimates
Cumulative Kayrros Patent Applications
A list of papers citing our results can be found
Kayrros partners with leading research institutions around the world and has filed numerous technological patents.
Kayrros near-realtime data have consistently proven to be a highly accurate precursor of official data releases whenever available.
For example, for two consecutive years, Kayrros daily, near-realtime measurements of European carbon emissions have matched EU lagged annual data with an accuracy greater than 98.5%.
In 2022, Stanford University conducted a blind release of methane and asked several academic and commercial providers to detect and measure the emissions. Kayrros outperformed in the range and accuracy of its detections in
this global benchmark
.
Kayrros is a one-stop shop for all climate measurements that matter
Kayrros has mapped all the physical assets that matter the most on a global scale and measures all the parameters that are relevant to the energy transition, ensuring the best and broadest coverage available of energy and the environment.
In processing and analyzing satellite imagery, Kayrros leverages a fast-growing proprietary database of more than 3 million physical assets, to cover all dimensions of the energy transition.
Kayrros measurements include new production capacity, production volumes, flows, inventories, intermediate and final consumption and associated greenhouse gas emissions and pollutants for all forms of energy and associated materials. Kayrros also tracks energy infrastructure growth and models and measures physical risks and damages associated with climate change
.
Daily measurements across tens of parameters and millions of assets create the best possible independent coverage of energy and environment.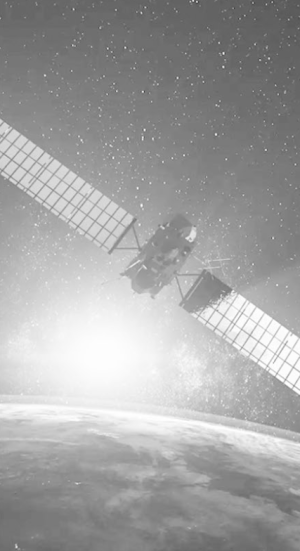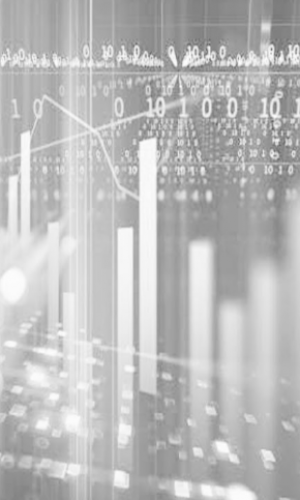 Kayrros source-agnostic approach guarantees that the best data sources are always tapped to extract the greatest value in every case 
As a pure software player, Kayrros leverages all available sources to generate the most accurate and cost-competitive measurements. 
Being asset-light, Kayrros is free of any pressure to use its own high-cost imagery and can focus instead on developing state-of-the-art, proprietary algorithms to extract highly accurate data from multiple available sources at the lowest possible cost.
This is now possible because of the heavy workload done by public monitoring satellites from the European Space Agency's Copernicus constellation and NASA, and the redundancy of commercial players on the main sensors that are needed to complement monitoring satellites.
Kayrros leadership in the field of image processing is the fruit of decades of research and development by its top scientists and its partnerships with top scientific research institutions. 
For instance, Kayrros proprietary algorithms have made it possible to fine-tune the spatial resolution of Sentinel-2 images down to 5m, making this free resource a true and fully viable alternative to large commercial constellations covering the world at a similar resolution but a much higher cost.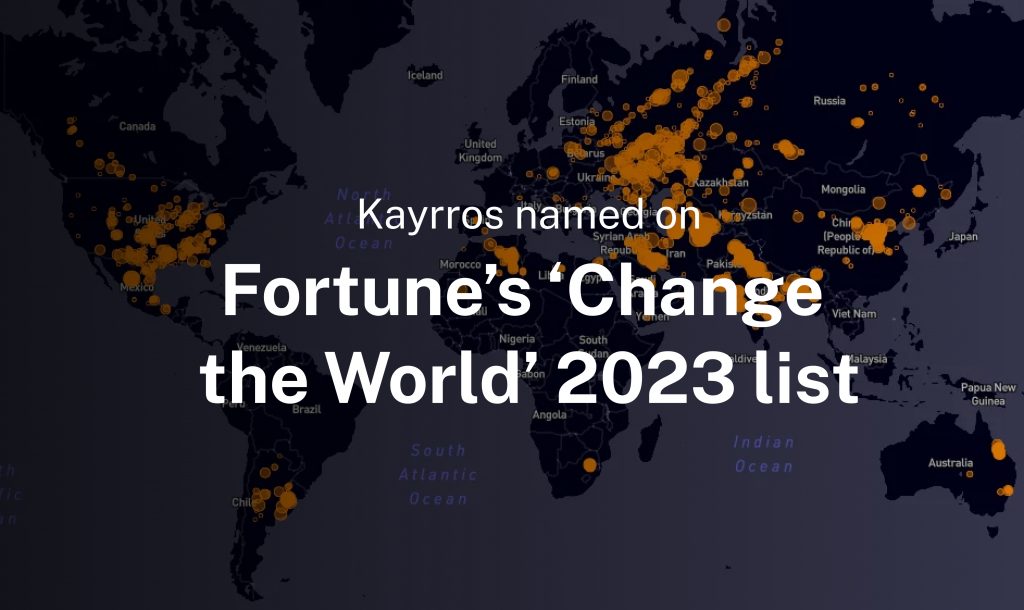 Kayrros named on Fortune's 'Change the World' 2023 list; company calls for ban on methane super-emitters
27 September 2023 – Global environmental intelligence company Kayrros has been named on Fortune's annual Change the World list, which highlights companies making strides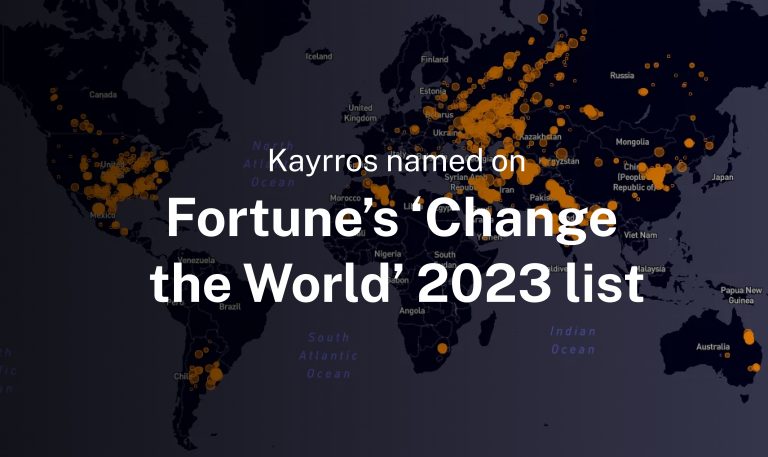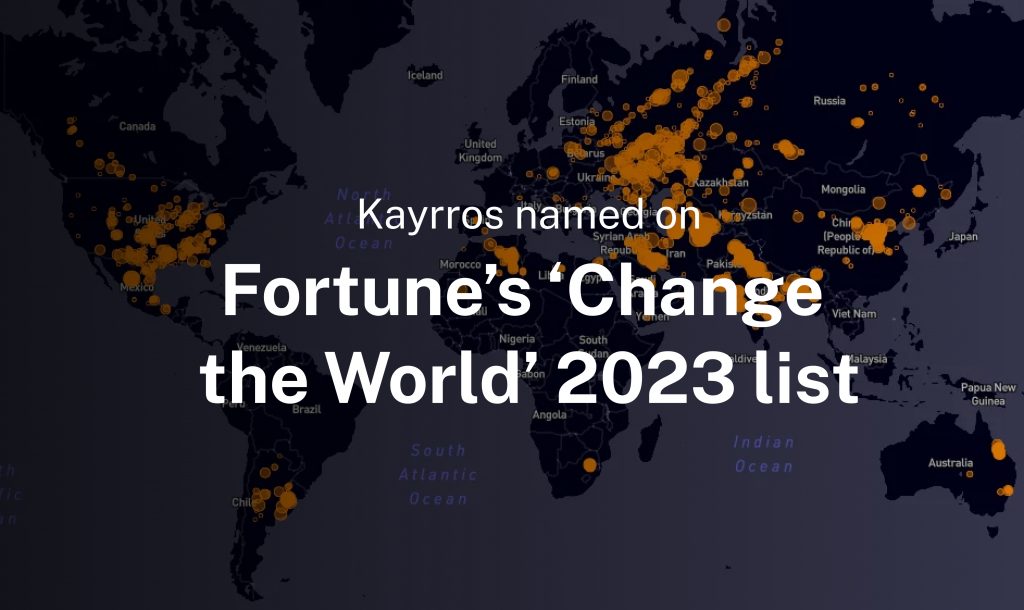 Kayrros named on Fortune's 'Change the World' 2023 list; company calls for ban on methane super-emitters
27 September 2023 – Global environmental intelligence company Kayrros has been named on Fortune's annual Change the World list, which highlights companies making strides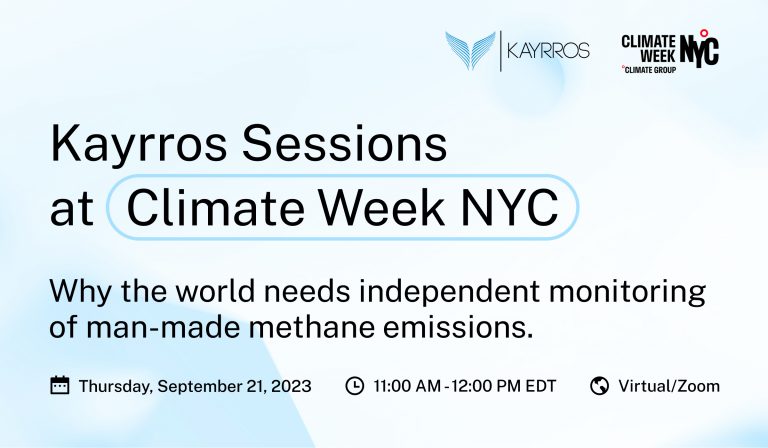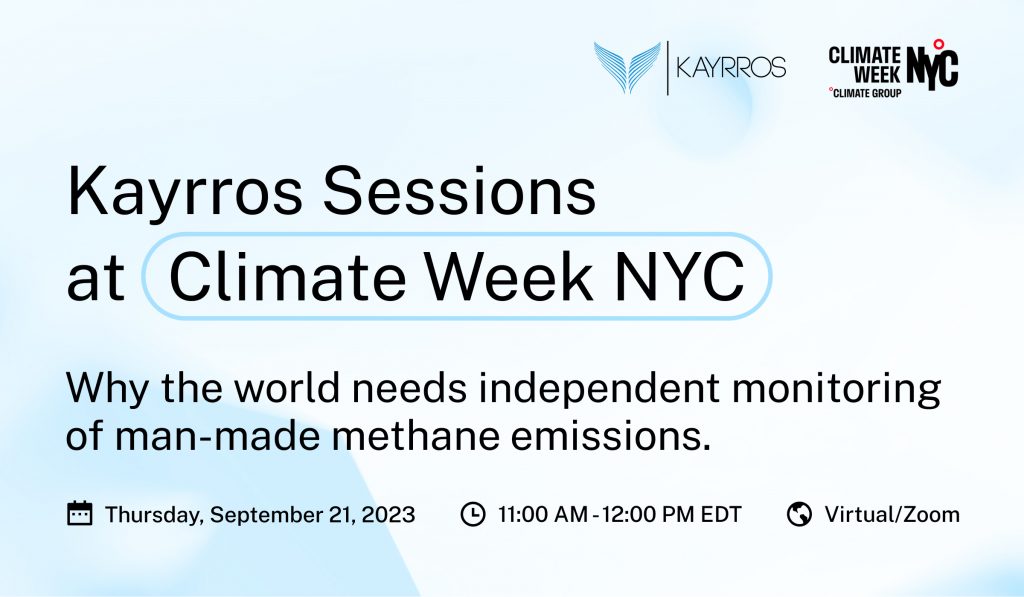 Why the world needs independent monitoring of man-made methane emissions – Kayrros Webinar
As part of Climate Week NYC, Kayrros is inviting you to a pivotal discussion on the crucial role of independent monitoring in the field


Tracking Jet Fuel Demand—From Bottom to Top
Measuring a sector resurgence Orders for new jet airliners reached record highs at the June 2023 Paris Air Show with more than 1,300 orders