Colonial Pipeline, a top supplier of oil products in the US East Coast, the region known as PADD 1 in oil statistics, suffered an unprecedented cyber attack that brought it to a halt on May 7. The outage and resulting panic buying and oil price hike triggered an all-of-government response from Washington, but the way the various market stakeholders reacted was largely opaque at the time. Kayrros deployed satellite imagery, proprietary algorithms and anonymized geolocation data to assess the impact on consumer behavior, refinery operations and oil inventories.
The Colonial outage is exactly the type of incident that Kayrros Rapid Response had been designed for. Stretching 5,500 miles from Houston to New York Harbor, the pipeline is a 'vital artery for fuel' (The New York Times) that carries up to 2.7 million bpd of refined products from Gulf Coast refineries to large consumer markets on the South and mid-Atlantic Coast. Kayrros Rapid Response is a taskforce dedicated to monitoring supply-chain disruptions and other serious incidents around the world in near-realtime through our Kayrros Platform by combining and consolidating inputs from various breakthrough data technologies.
When disaster strikes — from methane leaks and attacks on key infrastructure to floods and forest fires – a high level of transparency is needed to help gauge the physical impact and optimize the critical decisions that may be required. But the more urgently information is needed, the harder it is to come by through traditional sources and collection methods. This is where Kayrros Rapid Response comes in.
Let's take a look at what we found.
On-Road Demand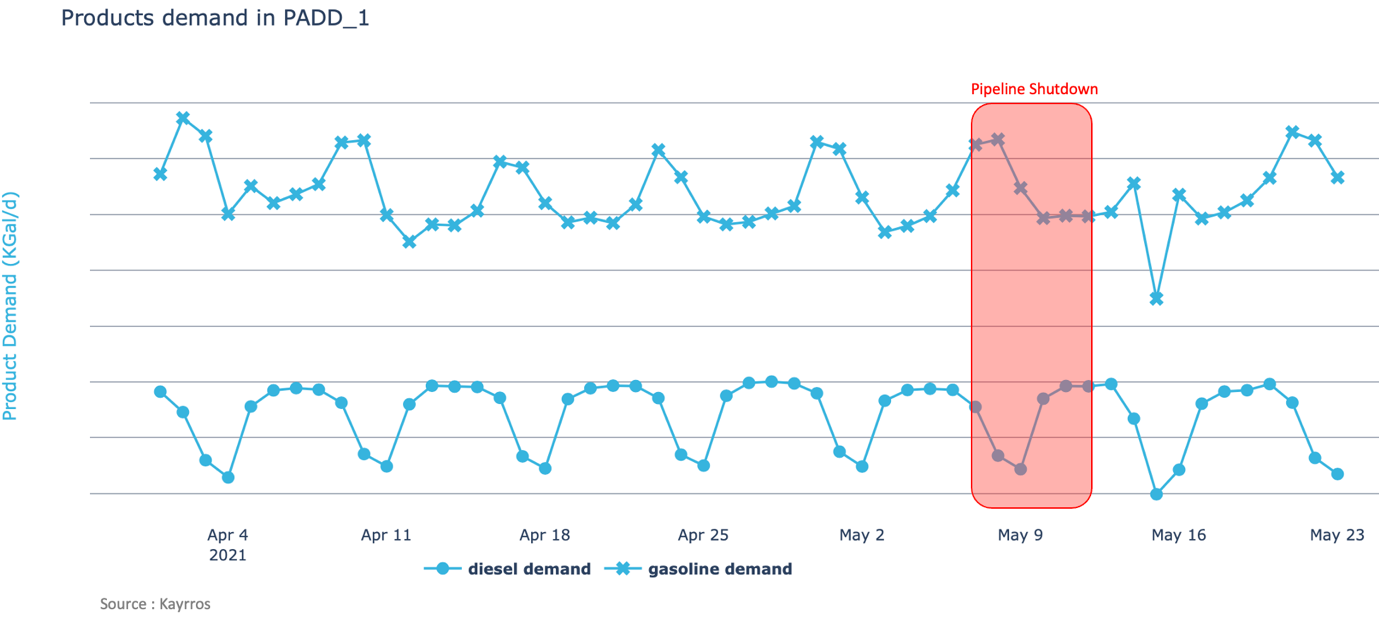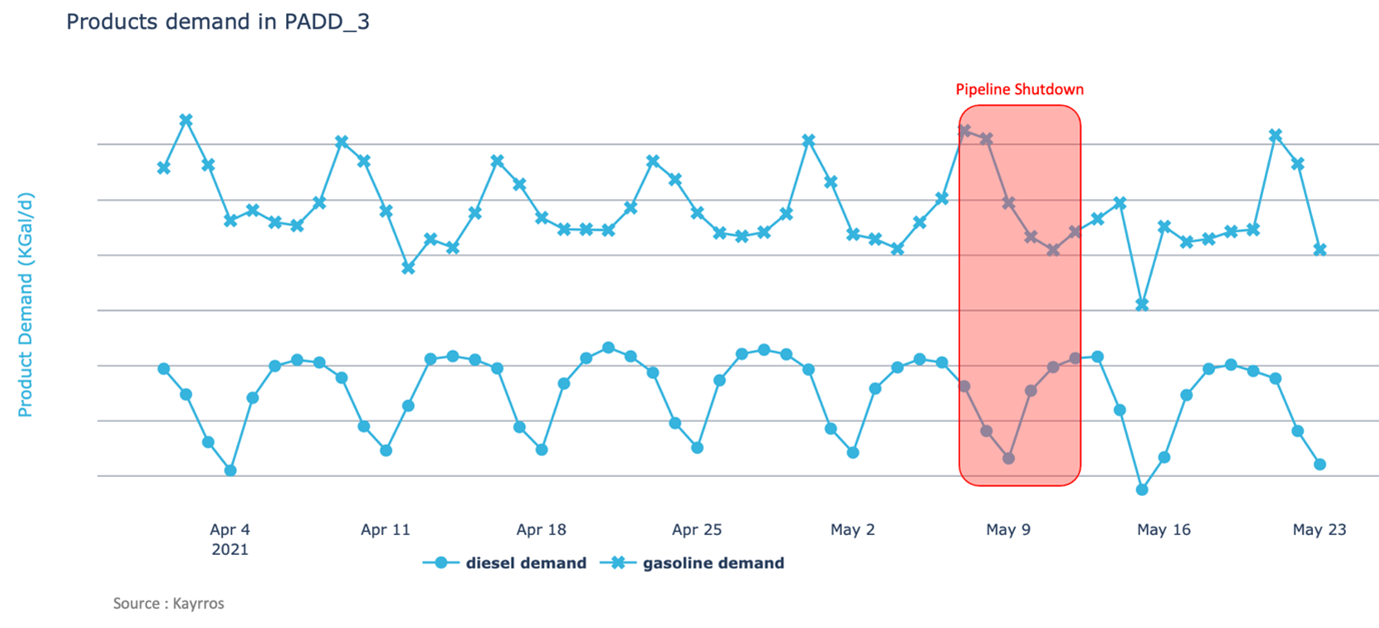 On the road, driving demand from both passenger and commercial vehicles reacted strongly to the news of the May 7 outage and its aftermath. While panic buying sent gasoline prices up to six-year highs and caused many service stations in the Southeastern US to run dry, driving itself was actually significantly curtailed by the outage and concurrent price increases and remained severely depressed long after the pipeline resumed operations. At both ends of the pipeline, in PADD 1 and PADD 3 (the Gulf Coast), consumer driving fell after the cyclical weekly high on the weekend of the attack and failed to bounce back as usual in the runup to the following weekend of May 14-16. The following week, both consumer and commercial driving plunged to their lowest levels in weeks, likely in response to high prices, sporadic supply shortages and precautionary conservationist measures. The patterns were echoed across the US.
Product Stocks

Kayrros monitors product inventories held in floating roof tanks, which are a good proxy for overall product stocks. As could be anticipated, product inventories in PADD 1 and PADD 3 responded in diametrically opposite ways to the Colonial Pipeline outage, with East Coast stocks taking a nosedive when the pipeline went down while those in the Gulf Coast spiked up as access to their Atlantic Coast outlets was cut off. However, PADD 1 product stocks were much quicker to rebound from their plunge than might have been expected, likely in response to increased East Coast refinery activity. On the other hand, the rebound was limited. After the pipeline reopened, stocks were slow to rebuild to preexisting levels; this is likely because several days are needed to transport products from PADD 3 to PADD 1. PADD 3 stocks were still rising in late May, at the time of writing.
Refinery Crude Stocks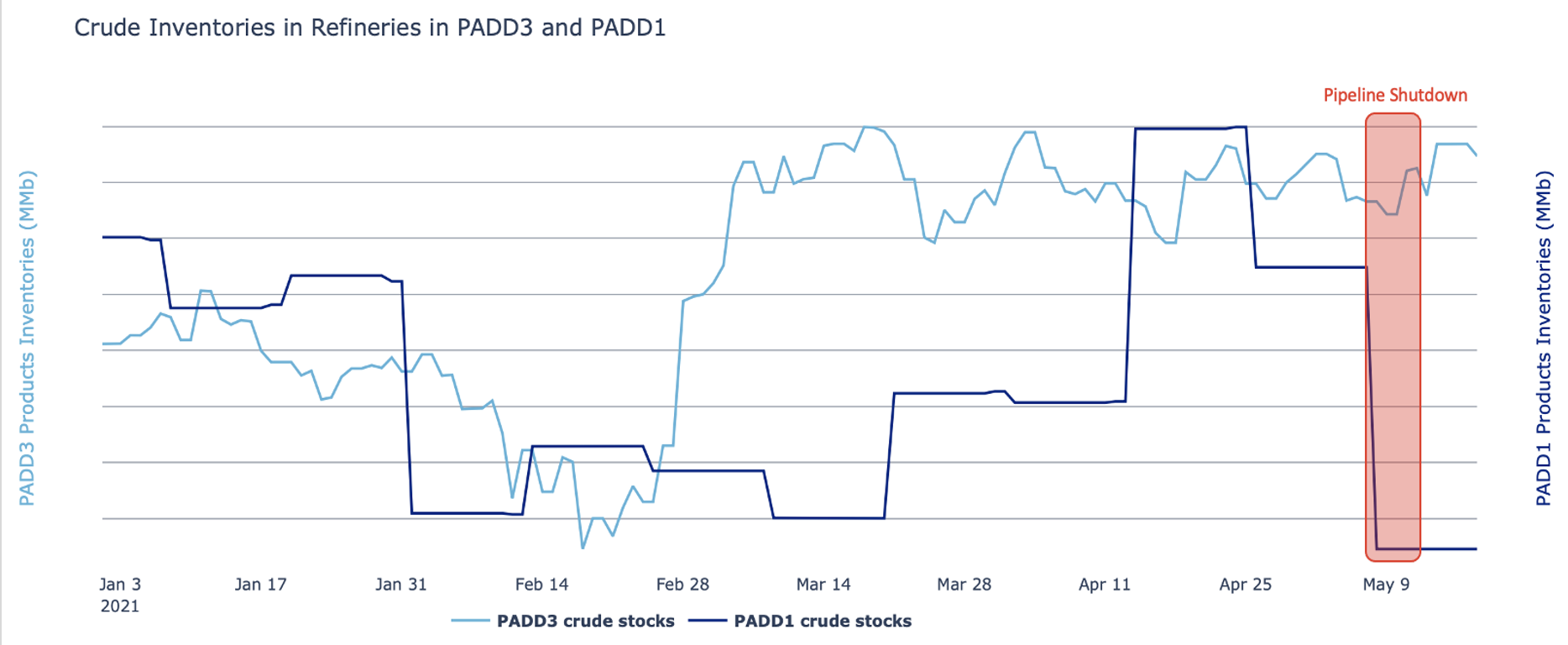 Refinery crude stocks held in floating roof tanks were a mirror image of product inventories. Crude inventories decreased sharply in PADD 1 as refineries cranked up their throughputs to compensate for missing product deliveries and seize the market opportunity provided by the product supply shortfall. On the other hand, PADD 3 refinery crude stocks have been on the rise, as diminished market outlets likely led refiners to slow down.
Kayrros will continue to monitor the Colonial Pipeline impact and will revert back with any additional updates. Rapid Response technology can be deployed to monitor other unexpected disruptions worldwide, from flooding and natural disasters to crude oil inventory disruptions. To learn more, feel free to get in touch with a member of our team.