After tepid growth in 2022 overall, European carbon emissions from regulated sectors plunged at double digit rates in the first quarter 2023 year-on-year and at near-double-digit rates quarter-on-quarter, according to Kayrros Carbon Watch.
 
The steep drop reflects a switch back from high coal burning as natural gas prices retreated from earlier highs, compounding the effect of factors that were already present in 2022, namely unseasonably mild winter weather and curtailments in energy intensive industries.
 
The sharp contraction in the European carbon footprint marks a bearish start of the year for EU carbon markets but was partly offset by a drop in carbon allowances.
 
In contrast with the industrial and power sectors, transport emissions took off as aviation extended its post-Covid rebound. Road transport emissions (not yet part of the EU Emissions Trading System) also revved up. Nevertheless, fast-growing emissions from transportation were more than offset by the plunge from stationary sources.
 
Kayrros near-realtime Carbon Watch data are updated daily and provide a comprehensive and granular preview of official statistics, which are only published annually with a multi-month lag. In the two years since its launch, Kayrros Carbon Watch has achieved >98% accuracy compared with official data.
 
On its face, the recent contraction in Europe's carbon footprint is a win for the planet – but, for reasons stated below, it is far too soon to celebrate.
Europe's carbon footprint shrinks for the second consecutive quarter
Figure: EU ETS CO2 emissions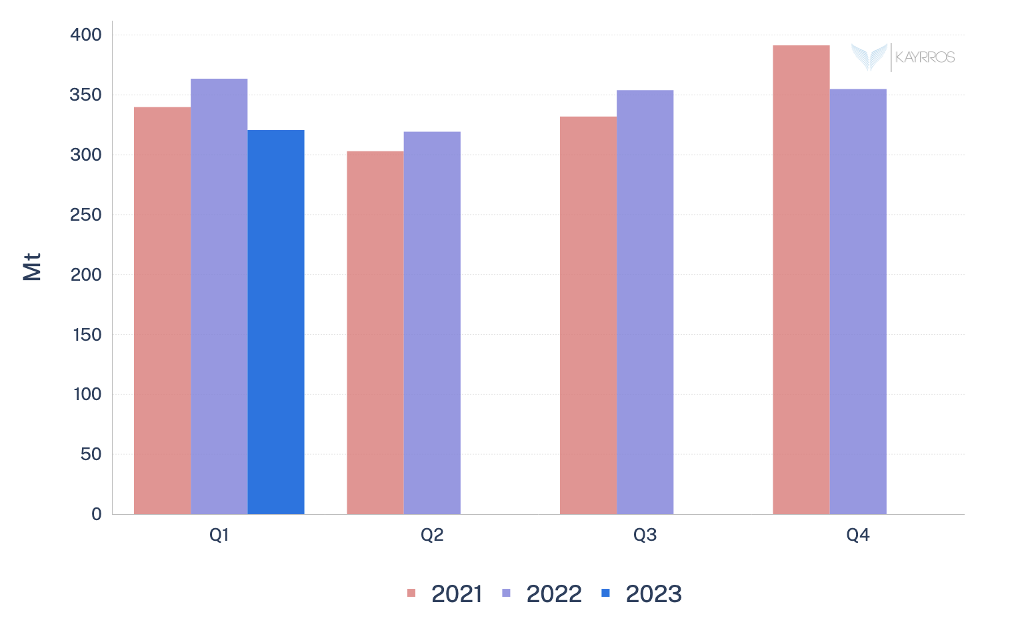 EU carbon emissions from regulated sectors – those subject to the EU Emissions Trading System (EU ETS) – have plunged in the first quarter, extending a trend that began in late 2022, Kayrros data show.
Analysis of satellite and geolocation data reveals EU physical demand for carbon credits plunged by nearly 12% annually in 1Q 2023, or nearly 10% quarter-on-quarter.
 
Emissions had already slipped by more than 9% year-on-year in 4Q 2022, reversing strong growth earlier in the year.
 
The contraction reflects a swing back from higher coal use which boosted EU emissions after Russia's invasion of Ukraine, amid concerns over gas shortages and record gas prices. High LNG imports have since assuaged those concerns and allowed gas prices to recede, compounding the effect of two factors already in place in 2022: reduced industrial activity due to lower Russian pipeline gas supply and low heating emissions amid unseasonably mild winter temperatures.
Stationary and transport emissions diverge
Figure: EU industry CO2 emissions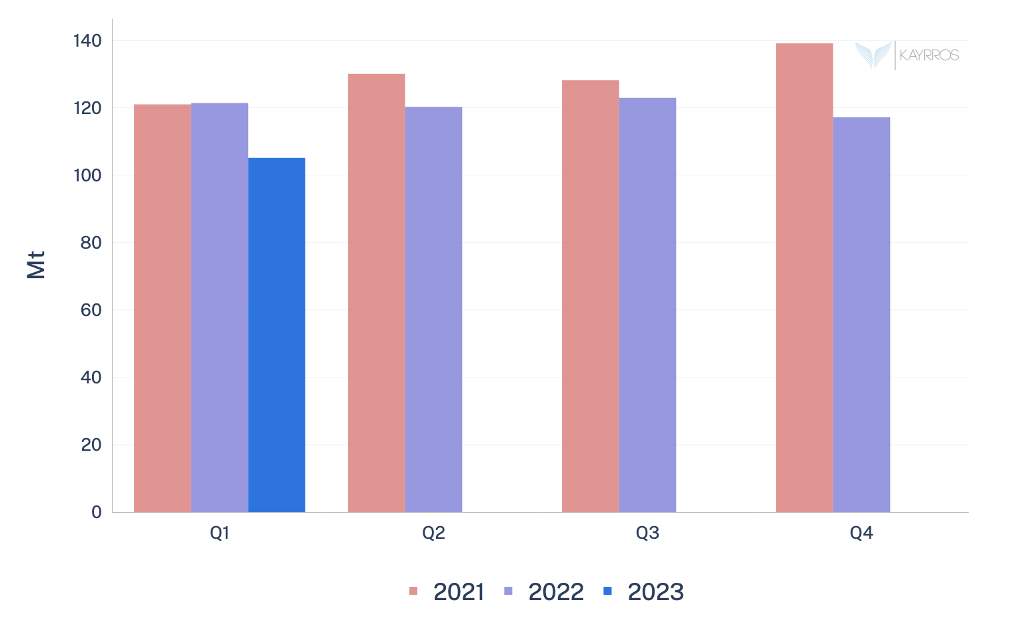 The first-quarter plunge in EU carbon emissions occurred despite a continued steep rebound in air transport from Covid-19 lows. 
Road transport emissions have also been accelerating but are not subject to EU ETS regulations. Even if the latter were factored in, Europe's carbon footprint would still show contraction in the first quarter, as the decline in emissions from stationary sources, led by energy-intensive industries, more than offset transportation gains.
 
On its face, falling EU "allowance burn" marks a bearish start of the year for carbon markets, but there are offsetting factors, notably a programmed decrease in free carbon allowances issued by the European Commission in 2023. Whether the emissions decline is sustainable for the rest of the year also remains to be seen.
Figure: Kayrros Carbon Watch accuracy in 2022 compared with official data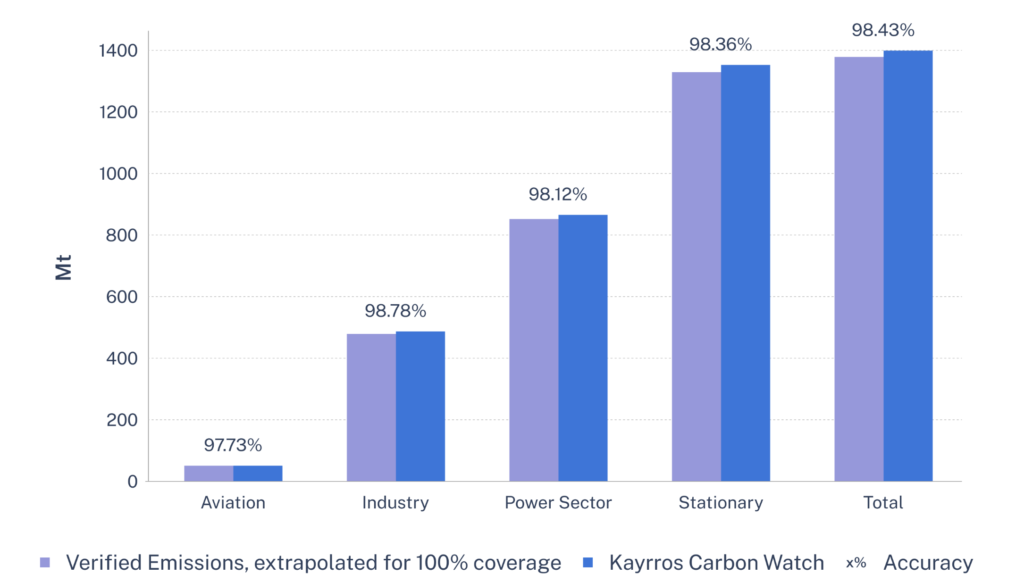 The only sure thing so far is the scope of the first-quarter emissions decline. The accuracy of Kayrros Carbon Watch, launched in 2021 (with data available all the way to 2016), is by now well established via lagged emissions data published annually by the European Environment Agency. Based on the latest EEA Carbon Registry update, Carbon Watch achieved 98.4% accuracy in 2022 compared with official data, in line with its performance of the previous year. For the second consecutive year, Kayrros measurement of EU industrial emissions, for which there is no other live source available, was spot on.
Should one then yield to the temptation of extrapolating from the first-quarter drop in carbon emissions and celebrate it as a win for the climate, and the planet? Not so fast.
 
First, lower natural gas prices, if sustained, might lead to a rebound in EU industrial emissions. Indeed, they seem to be on a recovering trajectory so far this month.
 
Alternatively, China's reopening, following the end of its Zero Covid policy, could reignite international competition for LNG supplies, sending natural gas prices higher. While that would likely curtail EU industrial activity and associated emissions, it might also again boost coal demand for power generation.
 
Third, Kayrros data show no clear letdown in EU transportation demand growth just yet.
 
And last but not least, weak winter heating demand could again be offset by stronger summer cooling demand. European weather patterns, and the seasonality of EU gas and electricity use, appear to be shifting, with both milder winters and hotter summers. With the expected return of El Niño conditions, summer heat waves could be especially punishing this year, boosting demand for emissions credits.
Meanwhile, the inclusion of shipping emissions in the EU ETS as of 2024 will help boost demand for carbon allowances, bringing further support to carbon prices. Kayrros will start providing daily measurements of EU shipping carbon emissions imminently.

Stay tuned!