Kayrros data show China's jet fuel demand fell in January from December 2020, ahead of the Chinese New Year. Domestic air travel, which had rebounded post-COVID lockdowns, led the latest decline. International travel has yet to recover from last year's pandemic lockdowns and has kept Chinese jet fuel demand depressed throughout 2020.
China jet fuel demand partly retraces summer and fall COVID rebound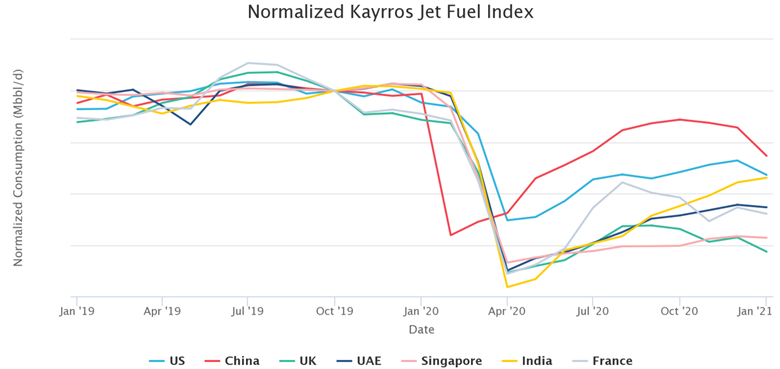 Kayrros jet fuel demand data shows China's consumption sank significantly leading up to the Chinese New Year, a season typically marked by heightened travel, both international and domestic as migrant workers make their way home for the holiday. The sudden drop in consumption may be counterintuitive since air travel experienced a relative peak around October during another holiday season, Golden Week. Furthermore, the government did not issue an order banning travel. Instead, measures put in place to deter travel such as mandatory quarantine periods and testing at the expense of travelers have acted to aggressively reducing air travel despite the holiday season.
The drop comes from heightened levels compared to other countries' jet fuel consumption. Following COVID lockdowns, jet fuel consumption in China had rebounded quicker than in any other major economy, reaching 85% of its 2019 baseline by October 2020. Despite the recent fall in jet fuel demand in January 2021, consumption in Chinese air travel is still closer to pre-COVID levels than any other country.
Domestic flights drop ahead of Chinese New Year from peak levels
The relative resilience in China's jet fuel demand is largely due to the magnitude of domestic flights. Kayrros data sees that domestic flights accounted for all of China's rebound from February 2020 lows and topped 2019 levels by October 2020 during the Golden Week celebrations across China. Meanwhile, jet fuel consumption in international flights remained stifled at roughly one third of 2019 baseline levels, and the recovery in jet fuel demand in China had been entirely fueled by domestic trips.
China's domestic jet fuel recovery spanned five months and reached 2019 levels in August 2020, and continued to increase leading up to the Golden Week in October 2020, peaking at 5 % higher y/y. Domestic air travel has gradually declined each month since October 2020.
Largest airports reach lowest jet fuel consumption since June 2020

The hit to total jet fuel demand due to COVID restrictions impacted China's largest airports, which facilitate most of the international travel. China's top 10 airports have collectively seen a reduction of 75% between October 2019 and October 2020, a relative peak month due to holidays. The reduction in jet fuel demand from the top 10 airports accounts for practically all of China's jet fuel reduction due to COVID restrictions. Among the largest airports, four have recovered jet fuel demand to pre-covid levels: Shenzen Bao'an International Airport, Shanghai Hongqiao airport , and Chongqing Jianbei.