Arizona's raging Telegraph fire, the sixth-largest in the state's history at the latest count, has defied expectations. The fire seemed to be dying down when it suddenly regained strength. The rebound came as a surprise, but satellite signals of a sharp increase in radiant heat could be detected on June 14 – a forerunning indication of the fire's expansion.
Kayrros data show the area's radiant heat increasing sharply on June 14 after a week of steady declines, coinciding with media reports of a declining containment level (meaning that the fire is less under control). The level refers to a perimeter that firefighters establish around the fire, in which natural vegetation, fuels and other fire-fuelers are removed in order to stop the spread of flames.
Rising radiant heat indicates that within a certain perimeter, the fire has either intensified or spread, leading to the rise in temperature. Our team drew a perimeter around the fire and surrounding areas using the Kayrros Platform in order to apply satellite imagery and processing data for insights, shown in the chart below.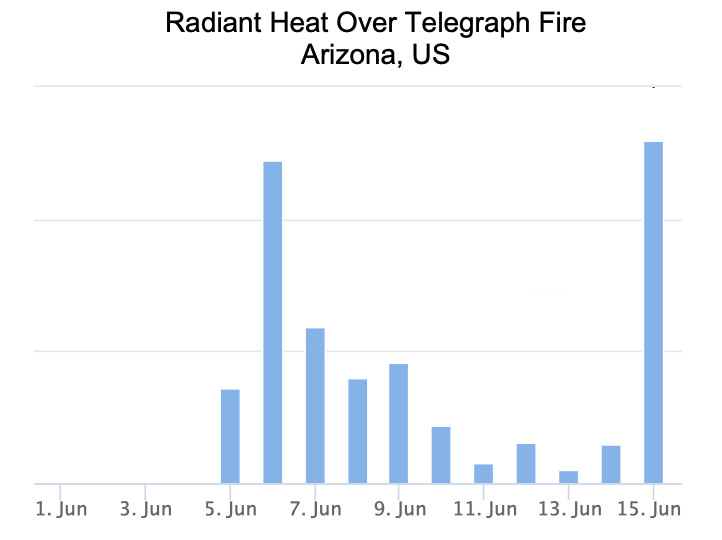 The fire's relentless growth has forced numerous communities in the surrounding areas to evacuate. In just one week, the fire swept across 150,000 acres since it was initially sparked 100 miles north of Phoenix on June 4.
Kayrros will continue monitoring the situation as it evolves, and will update this page with additional findings. Learn more about Kayrros wildfire monitoring here.
About the Kayrros Platform
Using a collection of over 200,000 assets that have been meticulously mapped and researched by Kayrros analysts, insights are gained faster by skipping the time-consuming step of defining assets. Instead, clients simply pick an industry, company or site of interest and immediately apply remote-sensing algorithms to observe the latest trends.